Queen Bee Outreach programs benefit the Bucksnort Honey Bee Sanctuary
Suit up & Join In! Pollination hives increase your harvest.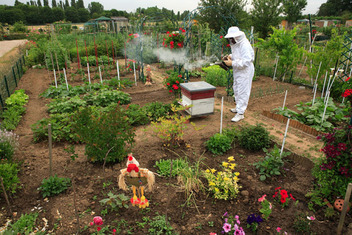 Tennessee Artisan Honey Bar offers three hive leases on INDIEGOGO.com
If you are an
INDIEGOGO funder
and signed up for a
QUEEN READY COLONY.
First and foremost, THANK YOU! You can anticipate an email from Carol Hagen - queenbeepollinators@gmail.com - by March 20. Hive leases are from May - September, unless it a very cold spring or fall. INDIEGOGO funders do not pay a deposit or pay for bi-monthly inspections. This is your reward for generously
participating in the Tennessee Artisan Honey Bar Indiegogo Crowdfunding Campaign.
In March, you decide a good time for me to come over to shake your hand. Then
we can walk your property to find an appropriate site for the hive. We encourage you to spend your winter months reading about bees and looking at seed catalogs. Our girls will love your forethought and you will be amazed at the abundance of flowers or veggies.

Hank Delvin,
Delvin 100% Organic Farm
, and I are beekeeping pals and farmers market vendors. It was Hank who suggested I start a INDIEGOGO campaign to finish my new kitchen and expand my honey business. Hank called to say he would contribute to the cause with 25 CSA boxes and 3 bee hives. These are survivor bees who live in bee heaven; a 220 acre certified organic family farm in College Grove, TN. I am pleased to have the support and encouragement of such a fine friend.
BEE AWARENESS EDUCATION OUTREACH
Carol is available to talk to students, your family or garden club about bee safety and chemical-free gardening. Please email or call with questions. (queenbeepollinators@gmail.com or 615-828-8405)
HOW DOES HIVE LEASING WORK?
We ask you to sign the Queen Bee
"No Garden Chemicals"
pledge that states you won't use chemicals for six months prior to receiving our bees or at any time during your lease agreement.
Flower seeds and planting information is available at the introduction meeting.
$100 deposit per hive - refundable until April 30, 2015 - is due when you sign up.
We help you choose a location in early May 2014 and arrive with a contract.
Hives are delivered as soon as the weather warms up and stays warm - April or May.
Hives return to the apiary in September or at the end of your contract.
Choose a plan
One or more hives, may be leased by the month or for the 5 month season.

We work with landscapers, if you would like to install a vegetable or perennial bee and butterfly garden.
We inspect hives twice monthly; we also come out to check on the girls after a major storm or at your request.

You are billed $20 per hour for the bi-monthly inspections. An inspection usually lasts for one hour.
A transportation fee is billed for destinations outside the Metro Nashville Area.
Your contract states
You understand honey bees may sting and you sign a waiver stating this fact.
You take responsibility for your family & visitors.
If your guest doesn't know about their allergies, simply keep them away from the hive.
As a safety precaution, you agree to have Benadryl and/or an EpiPen available.
You agree not to open the hive without a Queen Bee Pollinator beekeeper present.
---
Twice Monthly Hive Inspections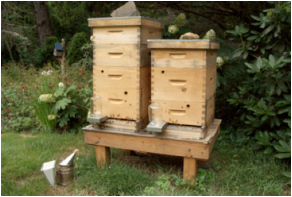 You & your family may Suit Up & Join In (Or Not) with our trained beekeepers.
Beekeeping suits & gloves are available in a variety of sizes; only size 12 child's suits.
Pets must be secured and in an area away from the hive during inspections.

Guests must sign a waiver prior to suiting up.
If our beekeeper stays longer than 1 hour, the additional cost is $20 per hour.
You receive an email reminder stating the day and time a beekeeper will arrive.
We inspect the hives twice monthly, even when you are out of town.
Consider This
Queen Bee Pollination is a community BEE ALERT outreach program
developed as
a revenue source for the Bucksnort Honey Bee Sanctuary. Our intention is
to introduce Nashville and the surrounding communities to bees and to initiate a conversation about why bees are dying. Our hope is that you will find bees as fascinating as we do; if so, perhaps you will stop using the garden chemicals that kill bees.
We consider bees our first priority, so don't be surprised if we ask you as many questions as you ask us. We want to be sure our girls are going to
a great summer camp with folks that really like them.
As for the honey, we have no way of guaranteeing that your hive will produce enough
honey to harvest or that your yard is an ideal location for our bees.
This is not a cheap new way to get lots of honey. There is nothing cheap or inexpensive about beekeeping; which is why we think this is a great idea.
You have an opportunity to learn about bees without the usual start up expenses and ongoing responsibility of beekeeping.
Tennessee bees often die in the winter; by returning our bees to the apiary for the winter months we increase their opportunity for survival.
We hope you take us up on our offer.
Sincerely, Carol Hagen
---