WHERE & WHEN OUR PRODUCTS ARE AVAILABLE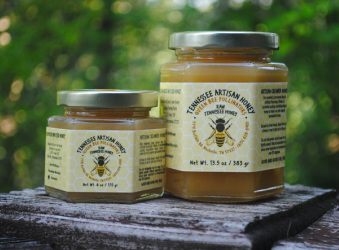 2018 NASHVILLE WINTER FARMERS MARKET UPDATE

OUR NATURAL MOUNTAIN HONEY is from STRANGE HONEY FARM, located in the Tennessee foothills of the CHEROKEE NATIONAL FOREST on the banks of the FRENCH BROAD RIVER. Master beekeeper, Gary Strange, expanded his apiary by 300 hives this spring, bringing the total number of hives to 2300. This pristine location offers bees a full season of nectar and pollen. If drought happens, Gary feeds his bees their own honey to keep them healthy. Its a good practice for bees and ensures nutritious honey for YOU.

OUR HONEY BIZ
Honey artisan, Carol Hagen is
pleased to introduce
Martha McNeely
as our market manager and
William Goertel
, as our social media manager. Of course, we all enjoy the farmers markets, so come down for a honey sample Friday - Sunday. YES! All winter long.
ALL MOVED IN
We furnished our
Nashville Farmers Market (NFM)
booth with cabinets and hung a customized metal honey sign complete with bees by
Redneck Creations Tennessee
! YES! We do pose for pictures.
NEED HONEY
If you live in Nashville, TEXT US @ 615-828-8405: NEED HONEY
Most likely, you will receive a call or text within a few minutes. If we are at a market, it may take a couple of hours. We will discuss the best place for you to pick up the honey.
If you want to meet the artisan, Carol Hagen, she attends Farmers Markets and special events at the retail locations.
ONLINE ORDERS:
Please place orders by email at >
CONTACT
You will receive an email confirmation and a request to pay by telephone. Allow at least 2 week prior to preferred delivery; include your full name and telephone number. If you do not receive an order confirmation, please: Text us
NEED HONEY @ 615-828-8405
. Include your name
PLEASE NOTE
:
Packaging & Shipping
are added to the order. We strongly recommend ordering by the case to keep the shipping price down. We discount the case at $1 per jar or $12 per case of 12 jars.
Queen Bee Pollinators, 7680 Buffalo Road, Nashville, TN 37221 ©
---