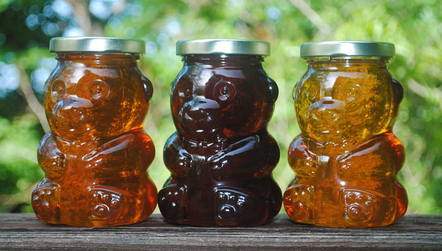 BEAUTIFUL HONEY BEARS
We've been looking for an alternative to the plastic honey bear and am head over heels for this vintage glass honey bear. It complements our focus on recycling and enables us to celebrate Tennessee conservation. Well, that and this honey bear is SO cute!
We fill these jars with one of our three types of Tennessee Mountain Honey: Tennessee Mountain, Dark Wildflower or Sourwood honey.
Labels include info on the Black Bear and suggestions for the honey.
RETAIL RAW HONEY:
$12 Honey Bear glass jar (13.5oz = 383gr)
CASES OF 12 HONEY BEARS:
$11 each / $132 per case
Mixed cases of 12 bears includes 4 jars of each flavor
Click on NEED HONEY above for markets near you
---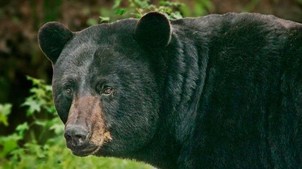 Celebrating Our
TENNESSEE BLACK BEAR
American black bear (Ursus americanus): The Great Smoky Mountains National Park is one of the largest protected areas in the eastern United States where black bears can live in wild, natural surroundings. The
Tennessee Wildlife Resources Agency
refers to them as "state treasures." Click this link to
Appalachian Black Bears
The "Appalachian Black Bears" field trip on
Field Trip Earth
offers many articles and other resources for those wishing to learn more about
our Tennessee bears.
Black bears in the Smokies are
black in color
, but in other parts of the country they may be
brown or cinnamon
. At maturity, black bears stand about 3 feet high at the shoulder, on all fours, and might reach 6 feet standing. Black bears don't actually hibernate in winter but fall into deep sleep from which they sometimes wake.
Bears live primarily along Tennessee's eastern border, in Blount, Carter, Cocke, Greene, Jefferson, Johnson, Monroe, Polk, Sevier, Sullivan, Unicoi, and Washington counties.
---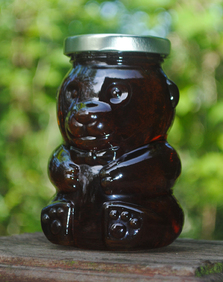 TENNESSEE DARK WILDFLOWER HONEY BEAR

This dark satin honey has a rich caramel flavor. Dark Wildflower honey stays in the hive from early spring until autumn, it is the last harvest of the year so it contains a full spectrum of pollen. The honey oxides in the hive resulting in the dark color and the caramel taste. The rich flavor reflects a mixture of tree, shrub and flower nectars.

Dark Wildflower is a perfect complement to biscuits, fruit compotes and teas. Drizzle it over fresh fruit or cheese. It is an excellent baker's choice for pies, cobblers and artisan breads. Chefs may consider this rich honey for barbecue sauces and marinades.




---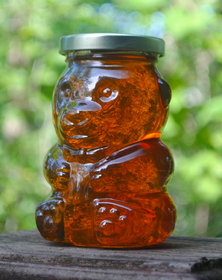 TENNESSEE MOUNTAIN HONEY BEAR

Tennessee Mountain Honey is a spring honey with a light floral flavor, it is a flavorful alternative to American Clover honey. This honey is a fine mixture of early trees, shrubs, spring wild flowers and clover.
Including Locust trees, Basswood, Tulip Poplar trees, wild violets, phlox, plantain, wild strawberry and geranium.

A perfect alternative to sugar, Tennessee Mountain honey is ideal in desert dishes, tea, hot cereal, on pancakes and for dipping sauces





---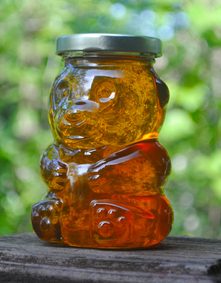 SOURWOOD HONEY BEAR

An award winning culinary honey, this single source honey is known for it's buttery flavor and anise aroma. The origin is the majestic, indigenous Sourwood tree found throughout Appalachia Trail, it was named by pioneers for it's tart edible leaves.

Ideal for savory dishes, Sourwood is a lovely ingredient in sauces, glazes & dressings for fish, meat or poultry. it is also a subtle addition to a baker's pantry.



---
---
SPRING WISDOM - Gift of Good Health
GIFT IDEAS
- SPRING WISDOM makes the perfect gift of good health to loved ones who suffer allergies or want to enjoy naturally good health. Special honey bee enzymes turn flower pollen into bee pollen.
POLLEN
is approximately 25% complete protein and contains at least 18 amino acids. In addition, a wide spectrum of vitamins, 28 minerals, 11 enzymes and 14 beneficial fatty acids and 11 carbohydrates.
DARK WILDFLOWER HONEY
is harvested in September for a full spectrum of pollen. Customers purchase this product for eating, plus facials and hair conditioner
BEE POLLEN:
$8 hexagonal jar (3oz) / $12 hexagonal jar (6oz)
WILDFLOWER HONEY:
$12 hexagonal jar (16oz = 1 lb.)
Click on NEED HONEY for markets near you
---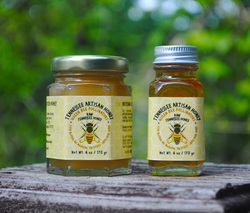 RAW HONEY WEDDING FAVORS or BASKET ITEMS

RETAIL HONEY: 3oz hexagonal jar or 1.5oz square French jar
AVAILABILITY: Special orders only. Please email for a tasting appointment and pricing.
MINIMUM ORDERS: Negotiable

USES: 3oz hexagonal jars are perfect raw honey samplers for holiday gift baskets





Queen Bee Pollinators, 7680 Buffalo Road, Nashville, TN 37221 ©

---