Honey is unique in the same ways that fine wine is; flavor is a variable determined by the source, regional terrain and weather. The color,

flavor

, and even aroma of a particular variety of

honey

may differ depending on the plants a honey bee colony visits and when the beekeeper removes the honey from the hive.
Carol Hagen, Honey Artisan & Beekeeper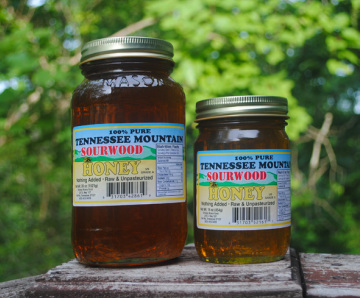 CAROL HAGEN
is the proprietor of
Queen Bee Pollinators
, purveyor of
Artisan Creamed Honey
and the
Nashville area distributor for Strange Honey Farm.
We are pleased to deliver pure raw honey and pollen from naturally managed mountain bee hives. We harvest three distinct types of honey; our honey is lightly filtered so the the naturally occurring pollen remains a significant feature of this Tennessee Artisan Honey.
GARY STRANGE
started his apiary with 100 hives in Del Rio in 1986, Del Rio is in the
Tennessee Cherokee National Forest,
along the
French Broad River
which is 240 mile north-east of Nashville. Now Gary and his crew care for over
1500-2000 natural hives
. Fortunately, the mountains are not conducive to industry or commercial farming or pesticide spraying. This pristine environment is a beekeeper's dream come true: it provides a full season of nectar and pollen for healthy bees and a significant harvest of delicious honey.
100% PURE TENNESSEE MOUNTAIN HONEY
- Good and good for youBEE INFORMED
FOLLOW US on Twitter for market hours / closures / special announcements : @TNArtisanHoney
FOLLOW US
on
Instagram
for delicious recipes / chef & restaurant referrals / honey events : www.instagram.com/tnartisanhoney/TEXT US: NEED HONEY @ 615-828-8405
to place retail honey orders & to schedule Nashville restaurant deliveries
STRANGE HONEY FARM PRODUCT LINE
---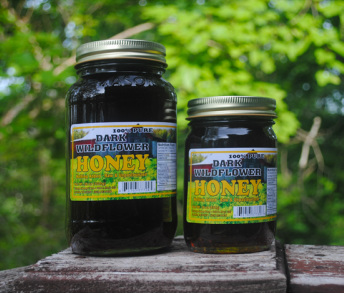 DARK WILDFLOWER HONEY
This dark satin honey has a rich caramel flavor. Dark Wildflower honey stays in the hive until the end of September so the flavor reflects a mixture of tree, shrub and flower nectar. Dark Wildflower honey oxidizes in the hive; this increases the mineral and vitamin content; it also has a full spectrum of pollen.
Many people take a tablespoon of this honey twice daily as a natural allergy remedy.
RETAIL RAW HONEY:
$12 pint jar 16oz = 1 lb @ $12 per lb
$18 quart jar 36oz = 2.25 lbs @ $8 per lb
$32 1/2 gallon 88.8oz = 6lbs @ $5.33 per lb
USES:
Dark Wildflower is a perfect complement to biscuits, fruit compotes and teas. Drizzle is over fresh fruit or cheese. It is an excellent baker's choice for pies, cobblers and artisan breads. Chefs may consider this rich honey for barbecue sauces and marinades.
---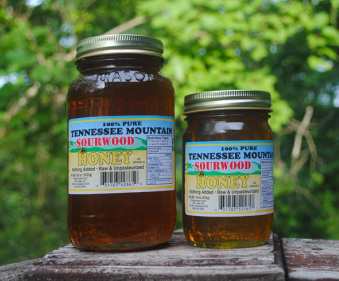 SOURWOOD HONEY
An award winning culinary honey, this single source honey is known for it's light, buttery flavor which some folks associate with an anise aroma and flavor. The origin is a majestic, indigenous Sourwood tree which was named by Appalachian Trail pioneers for it's tart edible leaves. Only experienced beekeepers with hundreds of hives and access to mature wooded plots in high elevations are able to harvest a year-round supply of Sourwood honey.

RETAIL RAW HONEY: $12 pint jar 16oz = 1 lb @ $12 per lb
$18 quart jar 36oz = 2.25 lbs @ $8 per lb
$32 1/2 gallon 88.8oz = 6lbs @ $5.33 per lb

USES: Ideal for savory dishes – fish, meat or poultry glazes and sauces. An interesting addition to bakery goods. Pairs beautifully with Cornish hen, salmon, charcuterie cheeses, fresh breads, and fresh or dried fruits.


---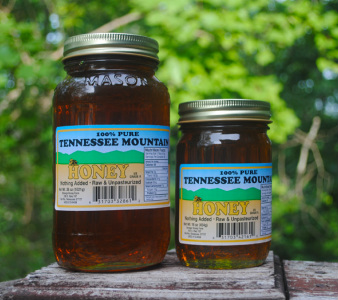 TENNESSEE MOUNTAIN HONEY
A spring honey with a light floral flavor; Tennessee Mountain honey is a flavorful alternative to American Clover honey. This honey is a fine mixture of early trees, shrubs, spring wild flowers and clover: Locust, Tulip Poplar, Basswood, violets, phlox, plantain, wild strawberry.

RETAIL RAW HONEY: $12 pint jar 16oz = 1 lb @ $12 per lb
$18 quart jar 36oz = 2.25 lbs @ $8 per lb
$32 1/2 gallon 88.8oz = 6lbs @ $5.33 per lb

USES: A perfect alternative to sugar, this honey is ideal in desert dishes, tea, hot cereal, on pancakes and for dipping sauces

---
HONEY is the PERFECT LITTLE GIFT
SOURWOOD - TN MOUNTAIN - DARK WILDFLOWER
6oz
TASTERS Pairs or sets of three
6oz hexagonal jar $8 each
TINWINGS
in West Nashville - the Nations
MARCHE'
in East Nashville - 5 Points
NASHVILLE FARMERS MARKET
- Shed 1, Booth 214 .
---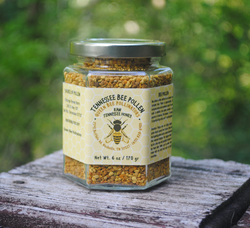 TENNESSEE BEE POLLEN
Bee pollen is often referred to as nature's most complete food. Pollen is approximately 25% complete protein and contains at least 18 amino acids. In addition, bee pollen provides a wide spectrum of vitamins, 28 minerals, 11 enzymes, 14 beneficial fatty acids and 11 carbohydrates.
RETAIL POLLEN:
$12 - 6oz
/
$8 - 3oz
AVAILABILITY:
Ready to buy. Click here for
Farmers Market
listing.
USES:
Most people find ingesting pollen builds a natural resistance to their seasonal allergies. We suggest eating 1/8 for a few days and gradually increase to 1/4 teaspoon. People who are highly allergic to pollen should consult their doctor.
Queen Bee Pollinators, 7680 Buffalo Road, Nashville, TN 37221 ©
---